The Kecskemet double CACIB show gave us again a lot of joy and happiness. We showed Neekka and Phoebe, please see their achievements on their page. Fanni and Kitti also had great times. On Saturday Kitti was placed 1st while on Sunday Fanni won 1st place in Junior Handling.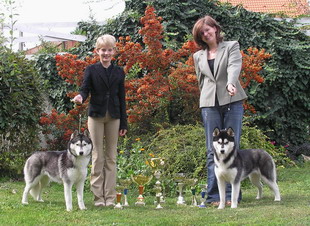 ---
At the Eurodogshow 2005 in Tulln, Austria three Nordica dogs had had shown. Reeba received excellent judgement in a huge competition, his sister Pepsi was placed fourth in open class and the youngest Nordica girl, Phoebe won Best Puppy in Breed title. In the BIS ring she was also selected to the 8 best puppies of the day.
The junior handlers in the Nordica kennel also had some nice achievements. At the Club Show of the Northern breeds Kitti won 3rd place with Reeba and Fanni won 2nd place with Pepsi.

The following day in Tulln Fanni won third place!

---
Our Kennel had won the title!
To achieve that we need to thank the help of the following people and their Nordica Siberians:
Tornyiné Horváth Andrea & ICH Exy The Eskimo of Nordica
Monika Millian & ICH Nike is Exploring Nordica
Mészáros Lilla & CH One in a Million of Nordica
& CH Million Miles Away from Nordica
Kovács Ibolya & JCH Precious Pepper of Nordica
Sanna Purovou & Painted Beauty of Nordica
Terry Brent & JCH Pinch Me I am Dreaming of Nordica
and apart from them also to my girls:
R. Eur. CH Oh Sweet Victory of Nordica
CH I See You Iceflower of Nordica
---
At the annual Champion Show JCH Pinch Me I am Dreaming of Nordica had won Champion of Champions, BOB and BOG title!
---
Russian Roulette of Nordica "Phoebe" started her her show with winning BIS baby title.

This page is last updated: 22.12.2005